RICOTTA MEATBALLS
Meatballs are one of those comfort foods that you now find on all appetizer menus in even the fanciest restaurants. Why...the reason is simple people want to eat familiar foods that are reinvented and this recipe does just that! I had first tried this combination at my favorite pizza place Motorino in NYC. This is my spin on the classic!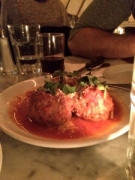 ingredients
250g ground veal
250g ground porc
1 egg
1 cup ricotta cheese
1/2 cup parmigiano reggiano grated
1/4 cup pecorino romano grated
1/2 cup fresh parsley chopped
3 cloves of garlic grated or finely chopped
1 small onion grated
1/2 cup whole wheat bread crumbs
1 tsp salt
1 tsp ground pepper
8 fresh leaves if basil
1 Classic Tomatoe Sauce Recipe (see Pasta section of the recipe box)
preparation
Preheat your oven to 375 degrees.
In a pot warm your Classic Tomato Sauce to a low simmer.
In a bowl combine the meat, egg, ricotta, grated cheeses, parsley, garlic, onion, salt, pepper and bread crumbs. Using an ice cream scoop of your choice scoop the meat up to make even sized meatballs.
On a line a baking sheet with parchment paper place the meatballs about one inch apart. Bake for 10-12 minutes or until golden brown and almost completely cooked.
Add the meatballs to your Classic Tomato Sauce and cook for an additional 15 minutes on low to finish cooking the meatballs.
Serve this dish up with 3 meatballs per person, some extra sauce on top, grated parmigiano reggiano cheese and some torn basil leaves.