Apple Cheddar & Crispy Prosciutto di Parma French Toast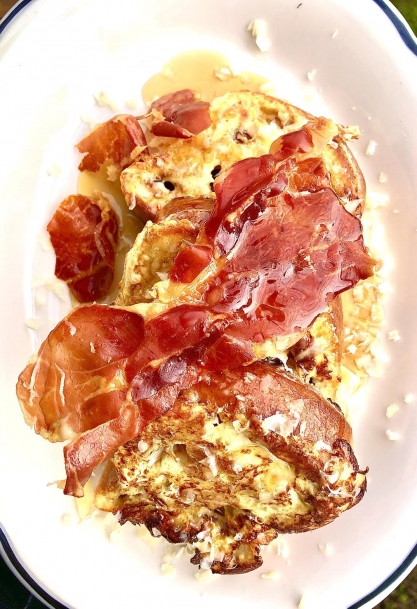 The holidays are a time for indulgence, and there is no better treat than to cook with the one and only… Prosciutto di Parma! It truly does live up to its name and reputation. When shopping for it in your local grocery store, or any retailer across the country for that matter, be sure to look for the PDO "Protected Designation of Origin" on the label or look for the Parma Crown on the packaging or the ham leg itself; this ensures that you are getting the authentic, 100% all-natural Italian ham.
Now, what makes this ham SO incredible, firstly, it is made with only four simple ingredients; pork, sea salt, air, and time (or I would like to think the secret ingredient is love lol). And I can feel good about using it to cook for my loved ones because it is free of preservatives, additives and hormones, not to mention the experienced salt masters apply the minimal amount of salt to produce this savory almost sweet ham. It's no wonder I enjoy Prosciutto di Parma so much one of my first trips to Italy, at the age of two years old, my grandparents reminded me this was one of my favorite things to eat!!
On one of my recent trips to Italy (pre-Covid-19) we visited Parma, which is in North Central Italy, and we got to see the attention and detail that goes into making this cured ham; they truly use the highest standards and ever since I have a whole new appreciation for Prosciutto di Parma. And to think that the aging process is an entire year long, it is no wonder that there is a price tag attached to this product. So, I am sure you are asking yourself, is it worth it? And the answer is YES! A little goes a long way with this and traditionally I like to serve the prosciutto paper thin at room temperature because it is so amazing just on its own. Oh, and here is a tip, never, never remove the band of fat around each slice, this is what gives the ham the balance of flavour and texture.
But besides having Prosciutto di Parma on a charcuterie board I also add it into some of my pasta dishes, garnish my risottos, or even use it to wrap some shrimp with, its so versatile! I recently came up with a recipe that is a crowd pleaser in my home and that I will most likely be serving up on Christmas morning, my husband and son love the combination of sweet and savoury and so I decided to make a brunch dish that I call Apple Cheddar & Crispy Prosciutto di Parma French Toast.
Here is how I make it…
ingredients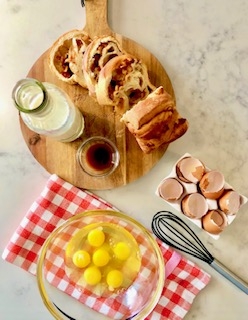 8 slices Prosciutto di Parma
1 loaf apple bread
6 eggs
2 tbsp. vanilla
1 cup whole milk
2 tbsp. butter
1 cup aged cheddar cheese, grated
Maple Syrup
preperation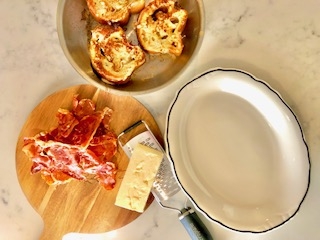 Preheat your oven to 375 degrees F.
On a baking sheet, lined with parchment paper, place the slices of Prosciutto di Parma. Bake in the oven for 12-15 minutes or until the Prosciutto is crisped. Remove from the oven and set aside.
Slice the apple loaf into 1-inch pieces (I prefer thick slices, but feel free to cut them smaller if you like). Set aside.
In a bowl whisk the eggs, whole milk, and vanilla.
In a 10-inch skillet warm 1 tbsp of butter on medium heat.
Dip the apple bread into the egg mixture and let it sit for 10 seconds, then remove from the egg mixture and place directly into the skillet. Cook for 2-3 minutes or until golden brown and flip. Cook an extra 2 minutes and place onto a serving dish.
Immediately sprinkle with 2-3 tbsp of sharp cheddar cheese, top with a slice (or two) of crispy Prosciutto di Parma and drizzle with maple syrup.